The World's Most Average Wine
What is The Most Average Wine in the whole world?
I am concerned that I spend too much time talking about small-production niche wines. Today we are going to go on a short journey of discovery in search of The Most Average Wine. The Mediocre Bottle. The Median Glug of Fermented Grape Juice. In practice, I think this is the Mode of the Mode Wine, but let's not talk about statistical technicalities and semantics.
My curiosity demands that at every stage where I have any doubt on what is 'the average wine', google will tell me.
Which country is this average wine from? Let's start by very simply googling "biggest wine producing country in the world". It's Italy, with France and Spain not too far behind. So far, our wine is Italian, what a good start. I'm actually a little surprised, as I thought it was Spain, but I guess I'm just behind the times - although Spain does have a higher area under vine, the yields are much lower and therefore it may be The Average Vineyard, but we are looking at The Average Wine.
Here is the OIV's 2019 Report on World Viticulture
Italy is a big country, with incredibly varied viticultural regions. Where in Italy then? Veneto and Puglia vie for the top spot, but the Veneto just about edges past. I breathe a sigh of relief, as whilst I love many wines from Puglia, it's not an area I know a vast amount about, and declaring Negroamaro to be the world's most common and average wine would make me even more of a pariah than I already am. I'm also a little surprised at just how low down some the regions are, Tuscany especially, which I associate with vast quantities of quaffable Chianti - but I suspect that we are talking about truly industrial levels of viticulture in Veneto, unimaginable anywhere but surrounded by great plains and worked by monstrous tractors.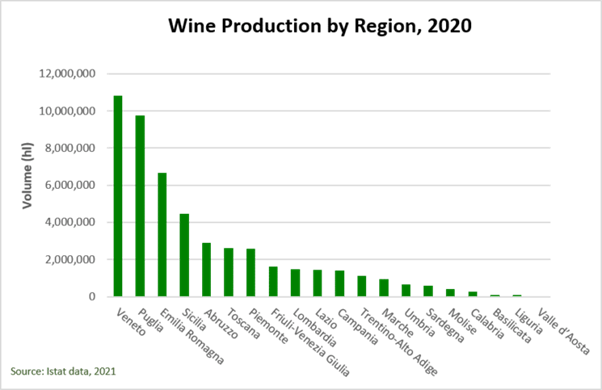 Source here
Within the Veneto, Soave and Valpolicella are some of my absolute favourite wines, and I have nothing but good things to say about the progress the former is making in quality, especially with its new 'crus'. The Veneto primarily produces white wine, which I think is roughly in line with the global average, but I'm not sure. I suspected red, but I could be out of touch and a short google surprisingly couldn't tell me what the world's most consumed wine colour is.
I wasn't expecting autochthonous grapes to lead. My money was on Pinot Grigio, with Chardonnay not far behind and Merlot lurking there too (urgh). Garganega didn't cross my mind, I always forget about Corvina, but maybe Trebbiano could be the number one, as Airen leads in Spain and Ugni Blanc (Trebbiano!) in France. Insipid bulk Italian white would be a fitting, if underwhelming end to this short journey of discovery.
Imagine my surprise when an old table proudly proclaimed Prosecco Bianco by far and away to be the most planted grape in the area. After double-checking my eyesight, and tut-tutting at how easily I had forgotten that Glera, like Pinot Meunier, has an identity problem, I realised that actually this makes perfect sense. In a roundabout way. I'm surprised that Garganega is so high up (where does it all go? Carafe wine in local restaurants? Bag-in-boxes in Newcastle? Who knows), delighted to have finally found where in Italy all the Merlot is to be found, and absolutely shocked at how low down the list Trebbiano is.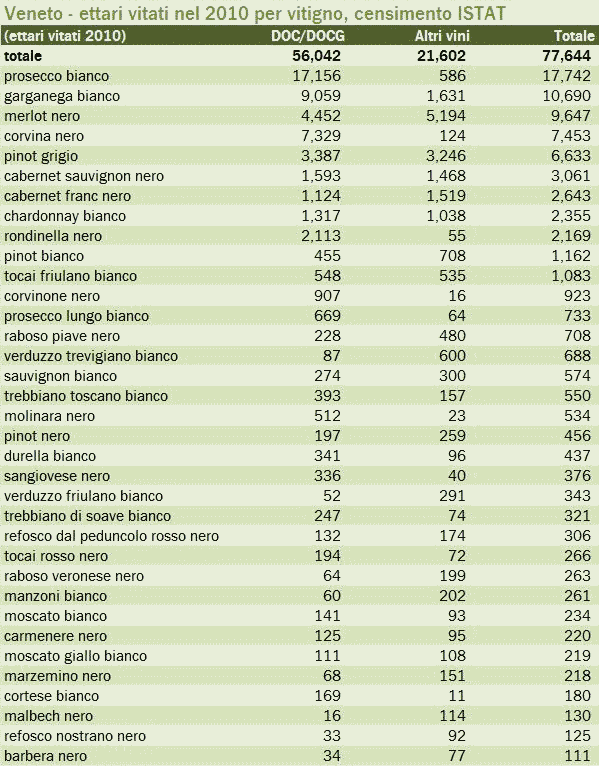 Source here
Glera/Prosecco Bianco naturally primarily make Prosecco, which I now have the dubious privilege of dubbing The World's Most Mediocre, Average Wine. This announcement isn't quite what I had in mind when I set out to write about average wines, which I think was probably more along the lines of generic Tempranillo, Californian Chardonnay or maybe even Bordeaux AOC, rather more likely in my mind than a much-maligned venetian sparkling. Despite its reputation, it often makes lovely wines, universally popular (unlike Merlot or Chardonnay), uses autochthonous grapes, and has more value than a container-full of fermented grape juice might otherwise.
Anyway, next time you're sipping bottomless Prosecco at brunch, however fancy you're feeling, just remember that your wine is Average.